Our commitment to quality goes beyond the products.
At Enertech Global, we believe in making our products and services better, which includes training opportunities. We're here to offer you and your team collective years of knowledge and the hands-on learning that's needed to grow and differentiate your business. This allows your customers, the end-users of our products, to experience geothermal (and solar) made better.
Join us for our FREE 3-Day Spring Training Spectacular at our headquarters in Greenville, IL or at our production facility in Mitchell, SD. Register using the form below.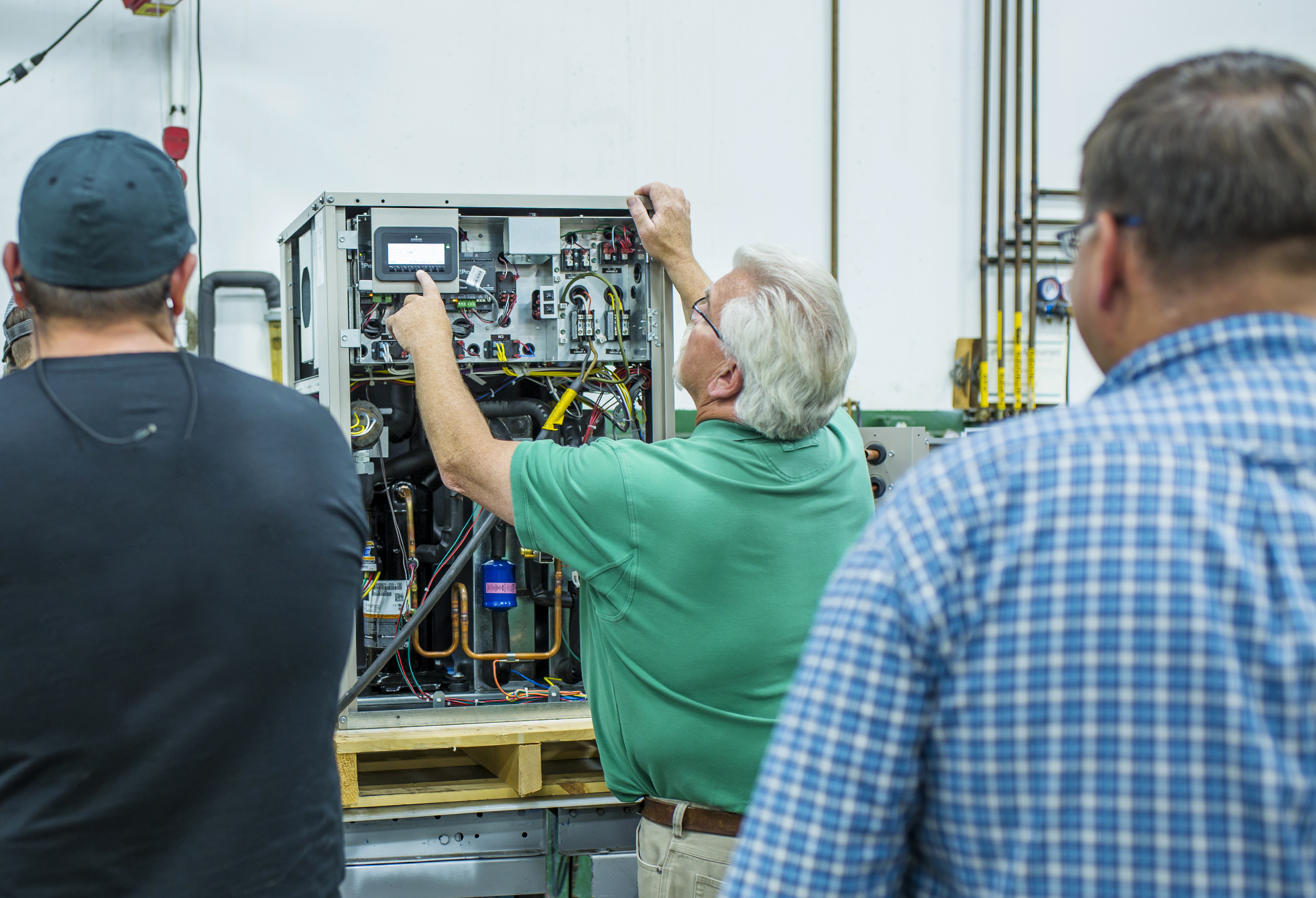 The Details:
The 3-Day Spring Training Spectacular will be split into two tracks:
| | | |
| --- | --- | --- |
| Track: | Technical | Design, Sales & Marketing |
| Day 1 (Mitchell: 3/26 – Greenville: 4/9): | Geothermal Applied Service & Installation | Sales & Marketing + Water Quality/Fernox + Warranty Updates |
| Day 2 (Mitchell: 3/27 – Greenville: 4/10): | Geothermal Troubleshooting | Solar Design & Sales + Zoning (EWC) |
| Day 3 (Mitchell: 3/28 – Greenville 4/11): | Variable-Speed Water-to-Water and Hydronics | Design & Sizing Software (Must have a GeoAnalyst account and laptop for training) + Solar Install |
*You may pick and choose courses if you'd like. For example, you could choose to do Sales & Marketing + Water Quality/Fernox + Warranty Updates on Day 1, Geothermal Troubleshooting on Day 2, and Design & Sizing Software + Solar Install on Day 3.
In Mitchell, there will be a factory tour for each track daily, and in Greenville, there will be a building tour, including engineering. There will be a welcome reception in Mitchell the night before the trainings begin on March 25th and one in Greenville on April 8th with food included. Please plan to attend in addition to the trainings, as we'll be sharing important updates.
The training in Mitchell will be held at the Ramada Hotel & Conference Center (where we recommend lodging below), and the training in Greenville will be held at Enertech.
Lodging information is below the registration form, and is the attendee's responsibility. Continental breakfast is provided at the hotel with lunch and dinner covered by Enertech on the day of trainings.
The cutoff dates to sign up for training:
Mitchell: February 28, 2019

Greenville: March 15, 2019
Due to cutoff dates and proper planning for the event, the Mitchell 3-Day Training is full and no longer available for sign up.
Lodging Information:
The 3-Day Spring Training Spectacular is FREE, including meals. Continental breakfast will be provided at the hotels. Enertech will provide lunch on Tuesday, Wednesday, and Thursday and dinner on Monday, Tuesday, and Wednesday. Attendees are responsible for their own lodging accommodations, so you will need to contact one of the following hotels, depending on the training you will attend, and secure your room(s).
Mitchell, SD:
Greenville, IL:
Super 8

in Greenville, IL - Phone: (618) 664-0800
Group name: Enertech
Group rate: $50 per night (Rate available up until time of training)
The

Comfort Inn and Suites

is available in Greenville, IL, but there is no group rate - Phone:

(618) 664-9700